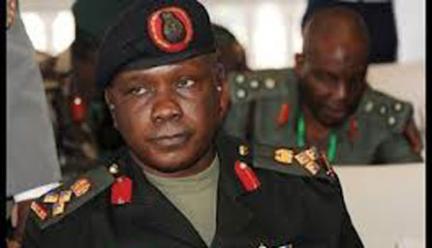 Freetown, Sierra Leone, March 23, 2015 – The Chief of Defence Staff (CDS) of the Republic of Sierra Leone Armed Forces (RSLAF) has warned soldiers not to meddle with the current political situation in the country.
Over two thousand military personnel from all the deployments across country converged this morning at the Hockey Pitch at Wilberforce to listen to the CDS' address.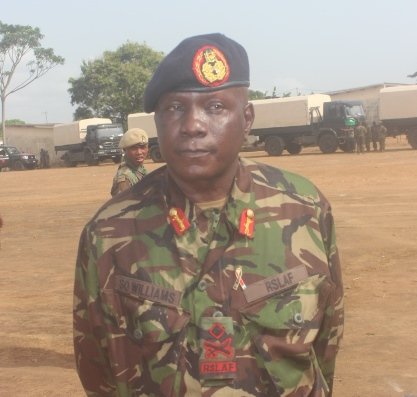 GEN. SAMUEL WILLIAMS
Delivering his cautionary statement, Major-General Samuel Omar Williams said the ongoing political issue was not the business of RSLAF as it was entirely a matter of politics. He pointed out that politics and the military were strange bed fellows and would never get along. The CDS stated that a political issue was settled in two ways, namely, either through dialogue among themselves [the politicians] or by a courts action.
Major-General Williams said the political standoff would soon get the attention of the courts of which, he maintained, no soldier was a member. The CDS said any soldier who was involved in the stalemate would be interfering into the job of the politicians or the court, and would be dealt with accordingly.
"Politics is not for a soldier", the CDS warned. Major-General Williams, however, stated the only way soldiers exercised their political right was casting their votes during elections. "No soldier has got the right to discuss politics or partake in it. Our focus should be on the fight against the Ebola, and let us leave the politics for the politicians", the CDS added.
The CDS noted that there had been incitements in the social media for military intervention into the political impasse. He stressed that any soldier that ignored the warning and accepted instigation must be ready to face the consequences. The CDS said any political instigator who believed he had a reason to remove an elected government from power by illegal means should carry out the task himself or herself.
Major-General Williams said that there was no rationale for military intervention into politics as there were grave repercussions attached to the act. He stated that the military would not only destabilize the state they had pledged to defend but also put the institution into disarray. He added that as another ramification, each and every soldier would individually pay for their action in the future.
Announcing certain measures, Major-General Williams said that with immediate effect all the soldiers not involved in the Ebola operation or assigned to any other military task must be confined to barracks. He also instructed that visitors entering military locations must be restricted. He further instructed that as usual no political discussion should take place within the barracks.
Contact: Captain Yayah Brima, Media Operations Cell, Headquarters Joint Force Command, Cockerill Barracks, Freetown.