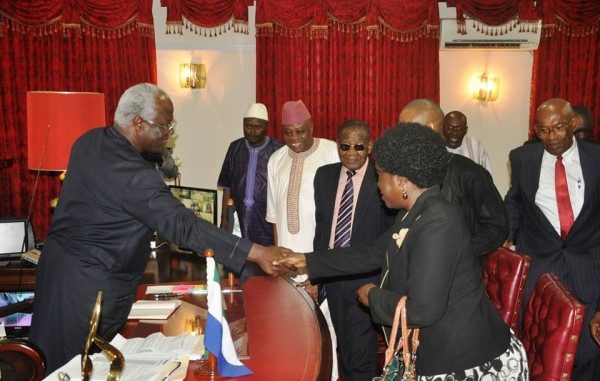 President Koroma Receives New SpeakerBy State House Communications UnitPresident Dr Ernest Bai Koroma on Friday 24th January urged the newly elected Speaker of Parliament, Hon. Sheku Bockarie Bashiru Dumbuya, to be impartial in the discharge of his duties and responsibilities. He made this statement during the presentation ceremony at State House of the newly elected Speaker and Deputy Speaker of Parliament as well as the Majority and deputy Majority Party Leaders respectively.
President Koroma paid tribute to the collaboration between the majority and minority parties in the election of the new Speaker. "I am glad that both parties played an effective role in electing you; which means you must be Speaker of the House and not that of your party. This is healthy democracy and we are happy about it", he stressed.The President emphasized that the new Speaker is being watched whilst performing his duties by not only Members of Parliament (MPs), but also those outside parliament like political observers, commentators and even the international community, and said that "history will judge you according to your record and performance"."With your experience and qualification, I have no doubt that you will perform according to expectations", President Koroma asserted, and encouraged him to engender more collaboration. He also said that he looks forward to further collaboration between the executive arm of government and parliament. "It is time for us to consolidate our democracy and that Sierra Leone can also become number one in terms of political tolerance", the President said.He assured the new Speaker of the commitment of the Executive branch of government to provide the necessary support to parliament as it will help the Executive in the implementation of government's programmes. President Koroma also congratulated the deputy Speaker, Hon. Chernoh R.M. Bah for his comportment as his reelection is a clear indication that he discharged his duties very well while he served as deputy Speaker.
The newly elected Speaker, Hon. S.B.B. Dumbuya noted that the decision to amend the law on the election of the Speaker did not emanate from the executive arm of government, but from the heartfelt concerns and desires of members of parliament. He assured President Koroma of his determination to be impartial in discharging his duties as Speaker of Parliament.
Hon. Sheku Bockarie Bashiru Dumbuya, fondly known as SBB Dumbuya was born on November 25, 1945. He was former Leader of the Majority Party in Parliament and elected ruling APC MP for Constituency 100 in the Western Area Urban District.
The 68 year old is an outspoken politician and one of the most influential members of Parliament.
The Clerk of Parliament, Ibrahim S. Sesay who made the presentation described the elections as free and fair and conducted under very peaceful atmosphere. He said they were at State House in fulfillment of Section 79 (1) & (4)(b) of the Constitution of Sierra Leone, Act, No. 6 of 1991.
Also in attendance were the indefatigable Minority Leader in Parliament, Hon. Dr Bernadette Lahai and his deputy, Hon. Ansu Kaikai.