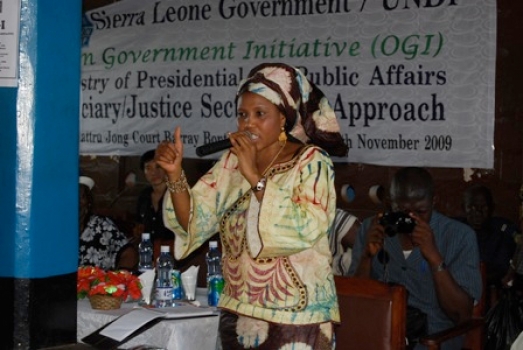 PRESS RELEASE
Reaction to Victor Lansana Koroma's Vicious Media Attack Against OGI Director
The Heads of Civil Society and Media organizations of the National Federation of Civil Society and the Media have been following publications on various newspapers and radio stations alleging misappropriation of public funds by the Director of the Open Government Initiative (OGI) Madam Khadija Sesay.
The publications and radio/TV reports allege that apart from involving herself in illegal activities, the Director has also shown a great disrespect to authorities including the House of Parliament.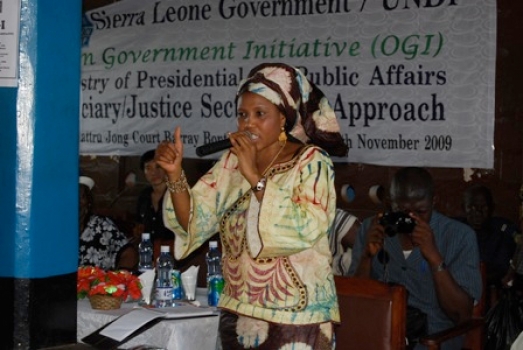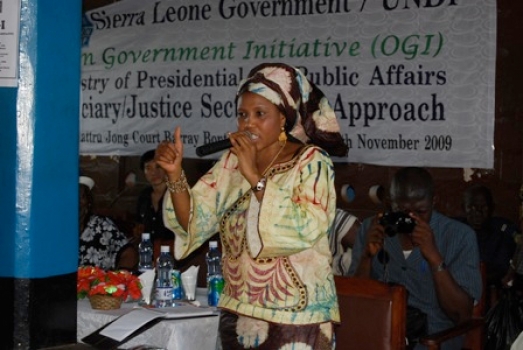 KHADIJA SESAY
Acting upon these unverified media reports, the former Chairman of the Federation, Mr. Victor Lansana Koroma who claims to have acted on behalf of the OGI Civil Society and Media Federation, addressed a letter of complaint to H.E the President of the Republic of Sierra Leone and copied same to various stakeholders such as the World Bank and the Anti-Corruption Commission, calling for an investigation into the allegations reported in the media.
As Members of the Federation, we disassociate ourselves completely from the allegations made against the Director in those publications and the letter forwarded to the HE the President and copied to 38 other organizations and personalities.
In view of this, we want it to be known that:
1-      The media membership of the Federation has no knowledge about the allegations in the said media reports, nor were they consulted before the circulation of the so-called letter of complaint to the President and other stakeholders.
2-      The Civil society membership of the Federation is also not aware of such concerns and publications.
We therefore categorically condemn the action taken by Mr. Victor Lansana Koroma and William Sao Lamin, who is in fact not even a member of the Federation.
Following that betrayal of confidence and misrepresentation of the entire Federation by the former Chairman Mr. Victor Lansana Koroma, we the membership of the Federation unanimously agreed in a meeting held on 20th July, 2015 at the OGP Office No.3 Bathurst Street in Freetown that:
1-      Mr. Victor Lansana Koroma is indefinitely suspended from all activities of the Federation with immediate effect.
2-      Mr. Victor Lansana Koroma submits to the Ag. Chairman of the Federation, Mr. Foday D M Sesay all documents and property of the Federation.
In light of the above, the Federation is encouraging members of the public to have confidence in the Federation and OGI/OGP in continuing it work in promoting good governance in Sierra Leone.