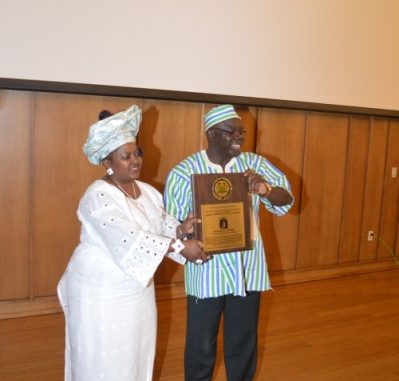 A cross section of Sierra Leoneans residing in the United States of America spearheaded by "Friends of Sierra Leone" have recognized the exceptional contributions made by three distinguished personalities and resolved to openly thank them to the full view of the Sierra Leonean Community on the West African Countries Independent day on April 27, 2014.
Sierra Leone's Ambassador accredited to the United States of America His Excellency Bockari Kortu Stevens was recognized for not only opening the Embassy of Sierra Leone in Washington DC to Sierra Leoneans, but also tried in his own way to link the Sierra Leonean Organizations in the United States to themselves and made them collaborate with one another irrespective of religious and Political dissimilarities.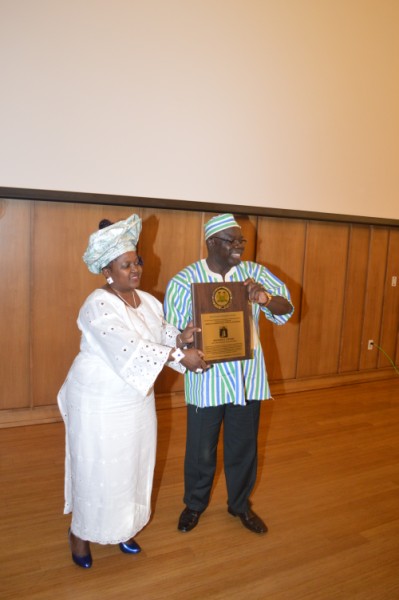 AMBASSADOR STEVENS AND HIS HEAD OF CHANCERY ISATU SILLAH DISPLAYING THE AWARD
According to a citation read out by Mr. Aiah Fanday of Friends of Sierra Leone, Ambassador Bockari Kortu Stevens has actually brought Sierra Leoneans closer to the Embassy of Sierra Leone and has made us realize that "we have someone who cares for us, and we are not alone".
"Whenever there is an event or any occasion like this, the Ambassador will invite us and allow us to make our own input into the activity/ies.
AIAH FANDAY GIVES THE AWARD TO SAM FORDE
Mr. Fanday recalled that Ambassador Bockari Stevens is on record to dispatch his senior embassy staff to a bereaved family in Pennsylvania, resulting from a collapsed building.
Therefore, we have thought s it fit to give him a surprise at an occasion like this and on a day like this". Minister Counselor Mrs. Isatu Sillah handed the Award to Ambassador Bockari Stevens.
MS. NADIA BANGURA BEING GIVEN HER AWARD
Also recognized was one of the most dedicated, hardworking and composed staff of the Embassy Ms. Nadia Bangura, Secretary to the Ambassador.
According to a citation read out, Ms. Bangura a Sierra Leonean by birth, has a very strong character and has worked for the embassy of Sierra Leone for twenty years.
 She was recognized for serving the Sierra Leone Community by not only making sure members of the Sierra Leone Community in the United States follow due process that will enable them have access to  Ambassador Stevens, but also without discrimination always making sure that individuals and groups receives timely reply to their correspondences.
Of importance to the Sierra Leonean Community is her courage and tact to transmit messages be it Positive or negative.
Also recognized was Mr. Sam Ford, a Liberian Broadcaster of "ABC7".
According to a citation, Mr. Ford was of tremendous help to Sierra Leoneans during the turbulent times in Sierra Leone. He was so passionate about the war in Sierra Leone and the wellbeing of Sierra Leoneans that, he was always "watching our backs". He was always there for us, which is why we decided to honor him today.
The recipients were prevented from responding by the continuous round of applause characterized by cheers from the audience.
Pasco Gerald Temple
Information attaché
Embassy of Sierra Leone
Washington DC
20009 USA
Tel- 2024466958