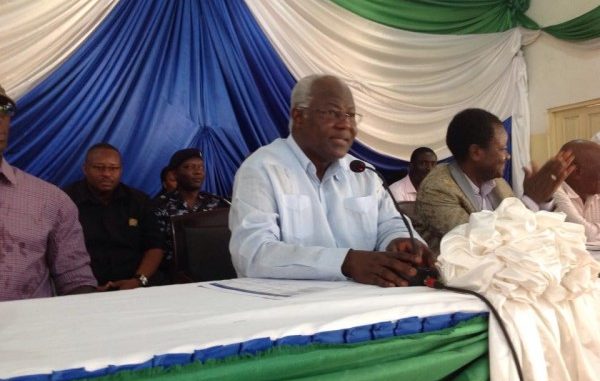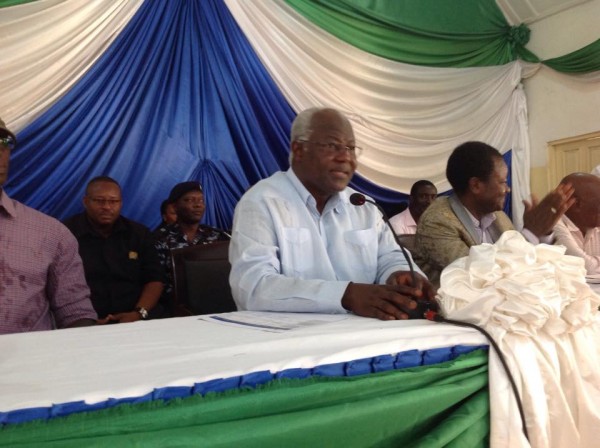 By Mahmoud Ismail
President Koroma  tours  the three regions of the East, South and North to thank his people for uniting against and defeating Ebola;
The president urges the nation to remain vigilant to avoid a recurrence of the outbreak; and
He also encourages the local authorities and the general public to take ownership of the recovery programme.
Post Ebola Communication Team
"After all the efforts all of you have made to defeat this outbreak, it is now time for me to come back to you and say thank you for a job well done."
Just a little over two weeks after
the Ebola outbreak in Sierra Leone was declared over,President Ernest Koroma who has been referred to as the 'Chief Social Mobilizer  started a regional 'Thank You' and social mobilization tour on November  22 , 2015 to the East, South and North of the Country
During the outbreak, the president went round the country with health professionals and international partners to help sensitize Sierra Leoneans about the hazards of Ebola and explain why they must adhere to the preventive protocols of hand washing, no body contact, and why the sick and the dead must not be attended at home. The president also supported Paramount Chiefs, District Councils and Members of Parliament with funds to directly engage their communities.
Even though as
 Commander in Chief and Chief Social Mobilizer President Koromaled the battle against Ebola, he has duly recognized that the war was won by the efforts of t
housands of everyday Sierra Leoneans who volunteered as frontline workers and health responders in burial teams, in surveillance, contact tracing, as hygienists, nurses and doctors
.
"It's a clear show of leadership and statesmanship",
 says Alex Alex Bonapha, Chairman of the Kailahun District Council and representative of Local Councils of the Eastern Region.
PC Paul N. Saquee V of Tankoro Chiefdom, Kono District
 and several other paramount Chiefs agree:
"The president challenged us during the outbreak, he asked us to take ownership of the fight against Ebola in our communities and we did. Now he has come back to thank us, I am very impressed and I want to thank him back in turn",
 said PC Saquee.
Honorable Diana Konomanyei, Minister of Local Government
and Rural Development also paid tribute to the traditional leaders and local authorities for what she described as their very important contribution in the victory against the outbreak.
In acknowledging the roles of the various players, President Koroma singled out the health workers:
"We are all survivors" 
he said, "but amongst us, our health workers take a special place".
The President's special acknowledgement of the health workers could not have been more appropriate. Over 200 health workers perished during the outbreak including 11 doctors. Issa French, Chairman of the Ebola Frontline Workers in the Kenema Hospital recounted that about 87 of their colleagues were infected, 48 of whom died including two doctors – Dr. Rogers and Dr. Sheikh Umar Khan – the country's leading specialist in Haemorrhagic diseases.
Figures from the National Ebola Response Center show that over 8,000 people were infected nationwide with up to 3,000 deaths. Even though the outbreak has been declared over; it has left in its wake a barrage of social and economic problems. There are thousands of survivors, widows, widowers and over 11,000 orphans. Farmers were forced out of their fields and lost their crops and seeds just as many people lost their businesses.
To address these challenges, President Koroma explains that the government has developed the Ebola Recovery Programme prioritizing four major sectors. First health– to
e
nsure that about 40 hospitals and 1,300 primary healthcare facilities are safe and have capacity to provide essential health care; to ensure that no patient gets infected with Ebola in health facilities; that children and mothers receive free essential healthcare; that TB, HIV and Malaria patients return to long term treatment and that over 3500 Ebola survivors receive free healthcare and support. 
Education- to bring all kids back to school by maintaining safe and active learning, ensuring zero cases in schools: continues IPC protocol monitoring and ensure WASH upgrade. The government will also waive school fees to enroll students, implement a school feeding programme, engage in community mobilization and provide support to vulnerable groups. It also seeks to accelerate learning through in-service teacher support using focused syllabus, upgrade classroom and semi-temporary structures to minimize overcrowding.
Under the social protection recovery priority, the government's
focus is on
s
upporting vulnerable groups and establishing a sustainable social protection programme. The programme targets to deliver about$ 13.5m to 50,000 households via new payments system using either bank accounts or mobile money. It will also increase capacity of government MIS to drive anti-poverty initiatives.