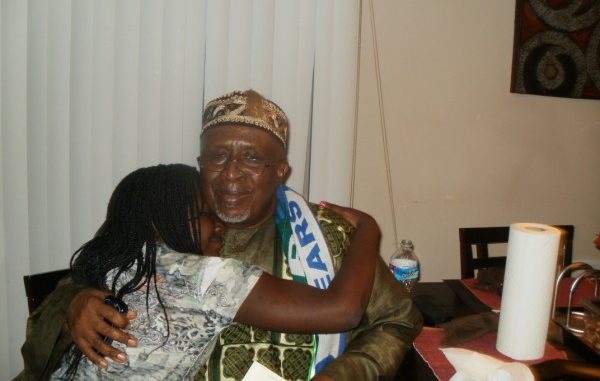 The All People's Congress ( APC ) is a wonderful family. Last weekend, our delegation travelled to Maryland to take part in the 50th Anniversary Banquet and Awards Program. The delegation consisted of the APC New Jersey Chapter President  , Mr. Allie Badara Kamara  ; APC  Rapid Response Team Chairman, Mr.Aziz Mohamed Nabe and your humble servant.  The trip was wonderful in many ways because I received an award for excellent journalism. However, it was wonderful for another reason : The impeccable hospitality accorded us by the Queen of the APC, Madam Abie Bangali-Mansaray. Justice will not be done if one celebrates the occasion without extending thanks and appreciation to Madam Bangali-Mansaray and her little, cute daughter, Yalaia , who accomodated us in their cozy and hospitable home. It was one of the best examples of hospitality I have ever experienced.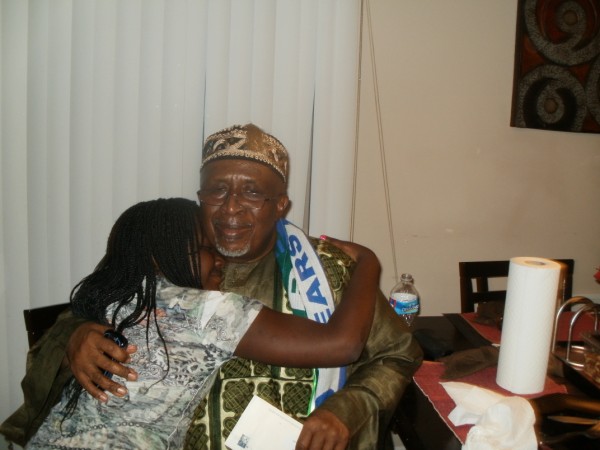 PHOTO ;  Aziz Nabe being fondly hugged by the Queen's little daughter,  Yalaia
We want to thank the Queen for the delicious meals she provided —The first-of -its kind Tola soup , the potato leaves and sawa sawa and of course the smashing breakfast in the morning. God wants man to be grateful for the good deeds of others and it is in this light that I am writing this thank-you letter to Madam Abi Bangali-Mansaray. The APC is a wonderful family and Queen Abi Bangali-Mansaray exemplifies the family. She is known for being a hostess par excellence to visitors who go to Maryland to attend functions. Her home is always open to visitors .May God bless her.