The face of Sierra Leone is changing very fast under the innovative, creative and progressive leadership of  President Ernest Bai Koroma. The infrastructural and road development projects going on in the country are gradually transforming what was once described as a stone age country in the early 200os to a modern nation. In fact,  Sierra Leone's road development projects are now second to none in West Africa.
Only the opposition Sierra Leone People's Party ( SLPP ) do not see these development projects, though a lion's share of these road construction are going on in their strongholds in the South -East . Conversely, only  the SLPP  do not know the value of road development projects and that " Reducing the distance between people, markets, services and knowledge – or simply 'getting people connected' – is a great part of what economic growth is all about…. There is a very strong positive correlation between a country's economic development and the quality of its road network. ( The Africa Can End Poverty Website ).
All who understand how socio-economic and political development come to a country know that : "THE socio-economic development and subsequent economic growth of any nation is strongly linked to its transport infrastructure. …The level and quality of transportation systems in any area are of crucial significance in influencing political, economic and social progress, and these must be considered at every stage of local, national and regional development planning. Without good roads, it is difficult to have socially inclusive development interventions" ( Lilian Keifer  : www. panos.org.zm ) . And to tell you the truth, the SLPP are fully aware of that. It is just sour grapes. They downplay President Koroma's infrastructural development projects as compensation for their failure to develop Sierra Leone during the 11 years they ruled the country.
COCORIOKO  have brought you pictorial displays of President Koroma's infrastructural developments in the South East –Kono, Kenema, Bo and Pujehun, as well as Port Loko, Tonkolili  and Kambia in the  North and the Western Area . Now, thanks to Mohamed Baryoh, we bring you pictures of what the APC Government is dpoing in Moyamba , another rabid SLPP  stronghold.  The first coal tar on the roads of Moyamba wwre laid out by the first APC President, the late Dr.Siaka Stevens. Since they peeled off due to age and lack of maintenance , only another APC Government has brought tarred roads to Moyamba again.
LOOK AT THE PHOTOS :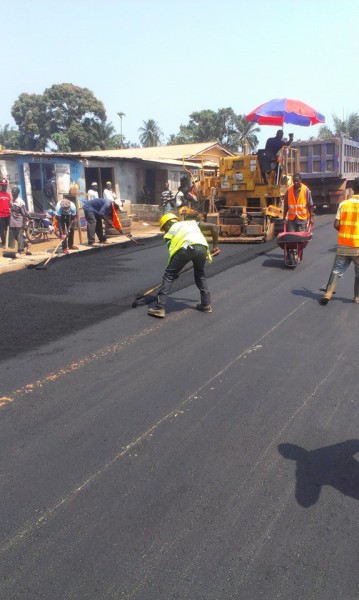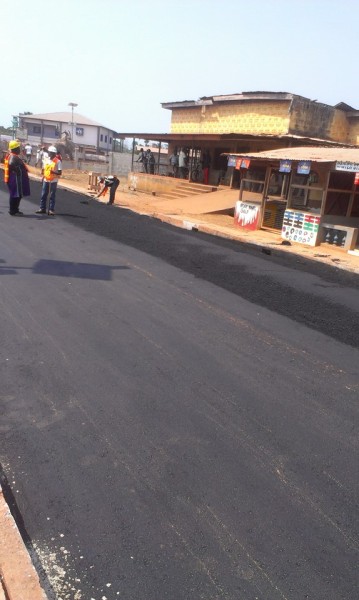 This is Moyamba, another MAJOR  SLPP stronghold. We emphasize this because the SLPP  ruled Sierra Leone for 11 years and left even these strongholds of their's backward and untouched by any development projects . And yet the SLPP  refuse to acknowledge President Koroma's magnificent work in their backyard. Let us put  country above partisan politics and acknowledge what President Koroma is doing for the nation.
There is no doubt that President Koroma is the Father of Modern Sierra Leone.