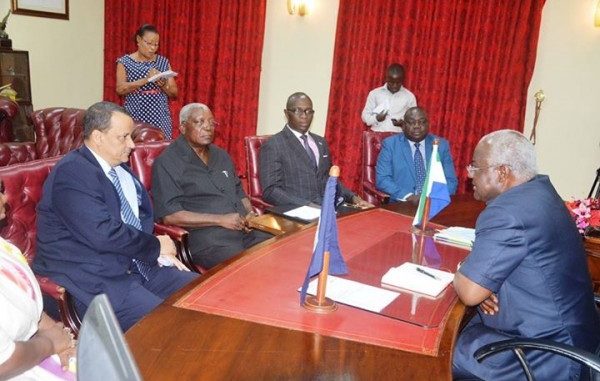 By State House Communications Unit
The Head of the United Nations Mission on Ebola Emergency Response (UNMEER) Ismail Ould Cheikh Ahmed expressed strong sentiment of assurances to President Koroma in an effort to give a final push to the waning Ebola virus disease. He expressed this sentiment during a courtesy call on the president at State House on Monday 16 March, 2015.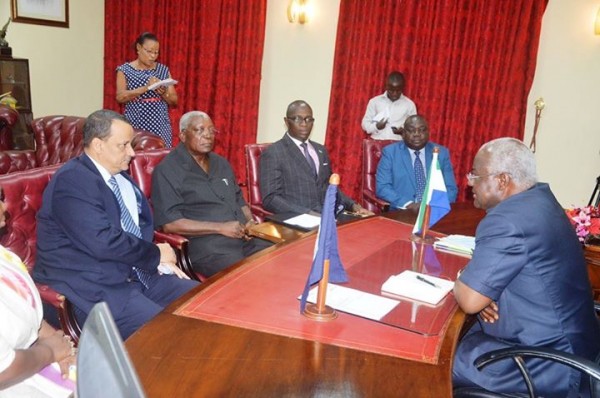 While conveying strong message of support, he said he was delighted with the new surge approach to reaching zero, and added that UNMEER will deploy human and financial resources and the required capacity to bolster government's efforts in ending the outbreak.
UNMEER's head expressed the need to strengthen security at quarantined premises and homes, especially as the country moves toward registering zero new infection. He cited the instance of someone who escaped from Aberdeen and materialized in Rosanda, Bombali district. Mr. Ahmed encouraged government to take a strong position on secret and unsafe burials which has been accelerating the transmission of the virus.
Responding, President Koroma said it was imperative that coordination was enhanced at all levels as promptness and the quality of services rendered are critical to winning the fight against the stubborn virus. He also informed the UN envoy about his nationwide social mobilization tour of the country for people to take ownership of the fight, but however expressed serious concerns about the quarantine process and persistent cultural practices such as secret and unsafe burials, and the activities of herbalists that are posing severe challenges to fend off the disease.
As a government, the president said, we are happy with the joint border collaboration between Guinea and Sierra Leone to eradicate the virus. He disclosed that he will continue with his social mobilization drive across the country to continue to sensitizing the people to heed to health regulations and byelaws to meet with the Mano River Union commitment of ending the outbreak in 60 days.