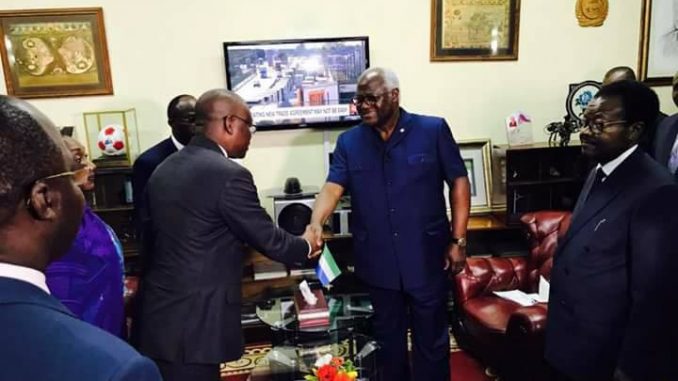 By State House Communication Unit
As rescue workers continue the frantic search for survivors, reaction to the deadly mudslide that jolted and devastated the Regent area and other communities on the outskirts of Freetown are pouring in right now from West African countries including Guinea, Senegal and Cote D'Ivoire.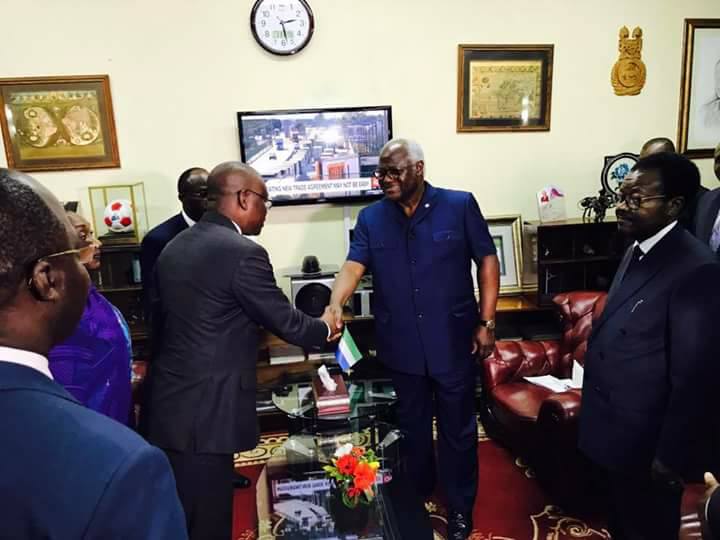 Yesterday the Guinean President Professor Alpha Conde visited Sierra Leone to show sympathies with the Government and people of Sierra Leone for the loss of lives following the mudslide caused by torrential rains.
Today, a high powered delegation from Senegal comprising the Minister of the Armed Forces Mr Augustin Tin (head of delegation), Minister of Fishing Mr Oumar Guzye, Deputy Minister of Railway Transportation Mr Abdou Ndene Ndiaye, Deputy Minister in charge of the Community Development Programme Mr Souleymane Jules Diop, Special Adviser to the President of Senegal Mr Moussa Mbaye, and Aide of the Minister of the Armed Forces Captain Massamba Ndiaye visited State House to offer their sympathies to the Government and people of Sierra Leone, particularly the victims of the mudslide and flooding.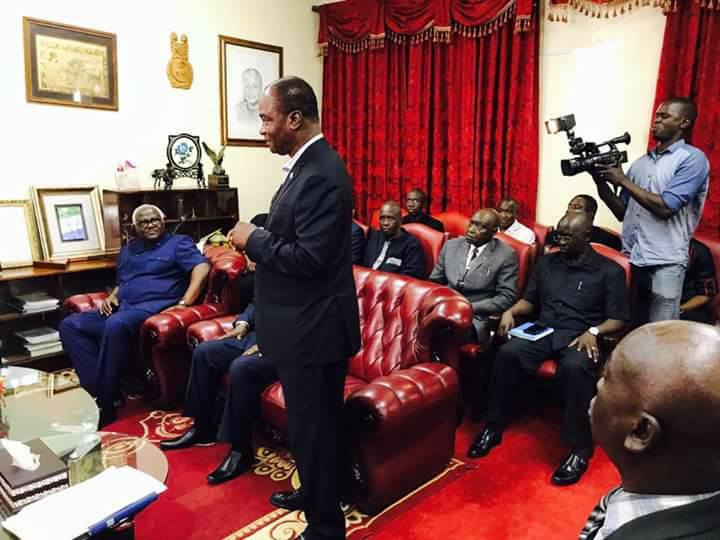 President Koroma also received a high level delegation from his brother, Ivorian President Alassane Ouattara, to reiterate his condolences and express his solidarity, on behalf of the Government and the People of Cote D'Ivoire. The Ivorian delegation is composed of the following: Minister of Economy and Finances who is the head of delegation Mr Adama Kone, Minister of Public Health Mrs. Raymonde Goudou Coffie, Deputy Secretary General of the Foreign Affairs Ministry, Representative of the Minister of Foreign Affairs Mr LY Djerou Robert, Deputy Chief of Staff at the Ministry of Economy and Finances Mr Yapo Akpess Bernard, Managing Director of Health Professor Dagnan Simplice and Inspector of Health Mr Douhou Pierre.
President Koroma thanked the Senegalese delegation for the presentation of $100,000 as well as the delegation from Cote D'Ivoire for their donation of one and half tonnes of assorted medical supplies to ensure medical care to affectees of the deadly mudslide and flooding. He said such gestures further strengthen the bilateral ties between Sierra Leone and their respective countries.
Besides the August 14 catastrophe, the president also mentioned the security menace in the sub-region which equally needed attention. He assured of assiduously working with development partners to address the situation on the ground.