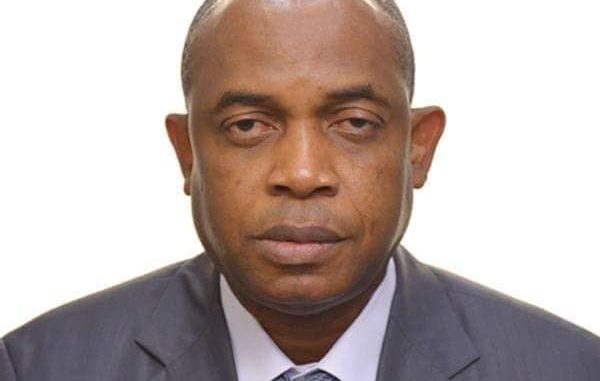 A Top Sierra Leone Journalist Ojuku Sesay Passes Away in Ghana in Mysterious Ailment!
By Abu Shaw in London (31/01/2020)
One of Sierra Leone's famous journalist Chernor Ojuku Sesay passed away to eternity in Ghana yesterday after prolonged and mysterious sickness.
The cause of Ojuku's death has baffled family members and journalism colleagues alike for months now. After his media sojourn as Sierra Leone's Press Attache in Belgium under the last APC government of President Ernest Bai Koroma, Mr Chernor Ojuku Sesay returned home in 2018 to participate in the general elections. (Photo: Late Ojuku Sesay in Brussels where he represented Sierra Leone media. RIP).
Mr Ojuku, determined to change the lives of his own people in his homeland in the north of Sierra Leone, threw his hat into the race to become a member of parliament in the 2018 general elections. He did not win but he gracefully felicitated his opponent in dignity. And he remained an ardent member of his beloved opposition APC party.
Family members say, Mr Ojuku Sesay never recovered from that electioneering campaign. He fell sick and his health deteriorated ever since. Ojuku was admitted to almost all the hospitals in Sierra Leone but his condition continued to worsen much to the scepticism of loved ones.
None of the hospitals could determine the cause of his sickness, despite all the diagnosis conducted since 2018. That was a red flag that obviously jolted the minds of family members and media colleagues, and the rumour mill went overdrive to digest why doctors could not discover any sickness while his condition continued to deteriorate.
A close family member who advised to remain anonymous said she suspected foul play during the 2018 elections. "Our healthy and active Ojuku suddenly felt unwell. At first, we thought Ojuku was just tired because of the campaign travels. But he subsequently told us that he felt something strangely different in his body.
"His condition deteriorated ever since. And after all the diagnosis conducted in Sierra Leone proved negative, our suspicion grew that 'Juju' or African fetish might be the cause of Ojuku's mysterious ailment. We believe in God, but we have long suspected foul play," the family member said. (Photo: Rest in Peace brother Ojuku).
Political observers believe going into politics particularly in Africa, one needs to get himself or herself well prepared in the spirit of Africanism. Spirituality in the African setting is alive and kicking since the days of our great ancestors and centuries before the white man and the Arabs touched Africa. Even today controversially, most Africans believe in spirituality, even though some others pretend that it does not exist.
While some Africans utilise spiritual powers to protect and help themselves prosper in life, others use African spirituality to inflict maximum damage on opponents and sometimes sadly on family members who they see as having bright futures. Harming a fellow man for material things in this world is very evil. These evil people always forget to remember that Almighty God is watching.
The late Ojuku was a fearless journalist who was detained many times by government for upholding the tenets of the profession. A top media man as exemplified in the 90s in Sierra Leone's Fleet Street, No 1 Short Street in Freetown where most Sierra Leone newspapers were housed then. Ojuku had his Pool Newspaper and also contributed immensely in sports activities before his appointment as Press Attache. Family members confirm Mr Ojuku was unrecognisable in his death bed. He was emaciated and a pathetic sight in his last days. Rest in peace.
As Sierra Leone mourns the death of our media colleague Chernor Ojuku Sesay, many questions remain unanswered as to the cause of death. Ojuku's corpse will be airlifted to Sierra Leone soon from Ghana where he died yesterday morning. May his soul rest in peace. Below is the press release from the Sierra Leone Association of Journalists SLAJ: