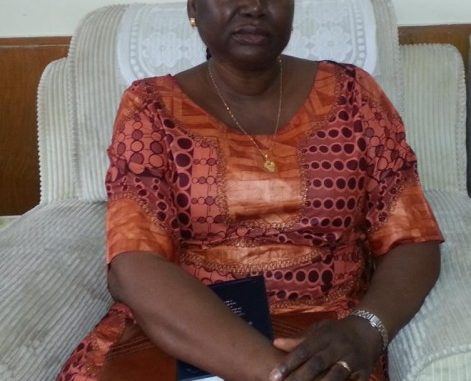 Sierra Leone's Deputy Ambassador to the People's Republic of China, Her Excellency Kumba Alice Momoh has called for teamwork among staff of the Sierra Leone Embassy so as to achieve a result that will be "collective in a meaningful way for the development of our (Sierra Leone) nation."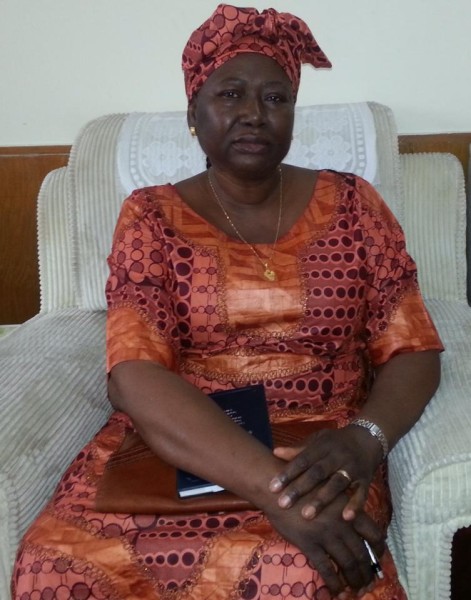 She made this call on Monday, 19th May when addressing both local and diplomatic staff, following her arrival on May 17th. Madam Kumba Alice Momoh was appointed Deputy Ambassador during the month of March, 2014, by His Excellency President Dr. Ernest Bai Koroma.
According to Madam Momoh, she arrived with open hands to work with everybody, stressing, that "…your support to me will be paramount if I am to succeed. Everyone's role is as important as the other. Nobody is smaller as we are all doing our jobs for the good of Sierra Leone and the People's Republic of China", she emphasized.
Arriving at a time when Ambassador Victor Bockarie Foh is on official vacation, Deputy Ambassador Momoh said, from her short encounter with most of the staff, she could predict, she has joined "colleagues who are dedicated to their roles in the Mission f0r the greater good of our , beloved nation, Sierra Leone",
Madam Momoh said, being new in the diplomatic service, she looks forward to the support of everyone "which is vital to my work."Speaking on her background, Madam Momoh informed that she had worked in the Broadcasting Service in Sierra Leone and in the Cabinet Secretariat which she said, had allowed her "work with people in a personal and team settings"
That, she has also worked for one of the Local Education Authorities in the United Kingdom as School Administrator and School Business Manager for over a decade. This, she believes, also helped in equipping her with wealth of experience "to work within multicultural situations" as her experience "has been working with people and I value people very much", she said.
Speaking on the bilateral ties between Sierra Leone and the People's Republic of China, Madam Kumba Momoh said, both countries have enjoyed long standing diplomatic and people-to-people relations running into decades. Sierra Leone, she said, has enjoyed a lot from such ties especially in the area of infrastructural development "as most of 0ur infrastructure was built for us by China"
"We are here to promote our bilateral relationships between Sierra Leone and the People's Republic of China. It is therefore our responsibility to work as a team to ensure that we market Sierra Leone positively at all times to our sister nation, China and other countries that this Mission covers" envoy Momoh said.
On development back home, Madam Kumba Alice Momoh proudly said, His Excellency Dr. Ernest Bai Koroma has done so much in transforming the country. "Sierra Leone is moving forward and thanks t0 our President, Dr Ernest Bai Koroma for all the infrastructures and other many developmental strides he is, and is still making in our nation.
Madam Kumba also Momoh called on the diplomatic staff to add value to the works of the President, saying "our being here should ensure we add value by attracting investors who will be committed to deliver purposeful businesses that will benefit the people of Sierra Leone"
Sierra Leone and China have had diplomatic ties dating back to the late 1960s and early 1970s.
Sierra Leone was historically very instrumental in ensuring China's entrance into the United Nations Security Council. This was when the rest of the world could not have anticipated the near global economic power China rapidly achieved in less than half a century.
Following his election in 2007, President Ernest Bai Koroma was certain, that as a leading nation in the world and with tremendous opportunities to offer, China would have a special place, and that existing cooperation ties would have to be sustained even further.
China's impact in Sierra Leone today could be felt in a number of areas as in infrastructure and health sectors, and with dozens of Chinese companies now actively in support of the country's development growth agenda.
The arrival of Deputy Envoy Alice Kumba Momoh is expected to add more value to the already committed and dedicated service that Ambassador Victor Bockarie Foh has been putting forward in fostering the ties between the two countries and in seeking more investment opportunities from Asia in general and specifically from China to Sierra Leone.
Kumba Momoh's appointment by President Ernest Koroma is indicative of Government's commitment to bringing more women at center stage of the country's governance process as seen in the number of women today occupying strategic positions of trust.
John Baimba Sesay
Press/Information Attaché
Sierra Leone Embassy, China
johnnra27@gmail.com