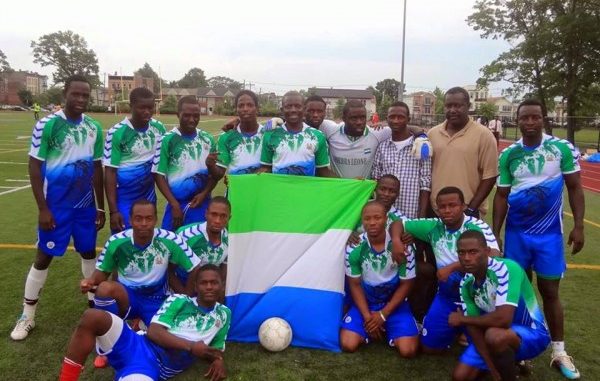 A four -club soccer tournament will be held in New Jersey on Saturday April 25, 2015 to commemorate Sierra Leone's  54th Independence Anniversary celebration. The tournament will be hosted by the SHOOTING STARS  soccer club of New Jersey .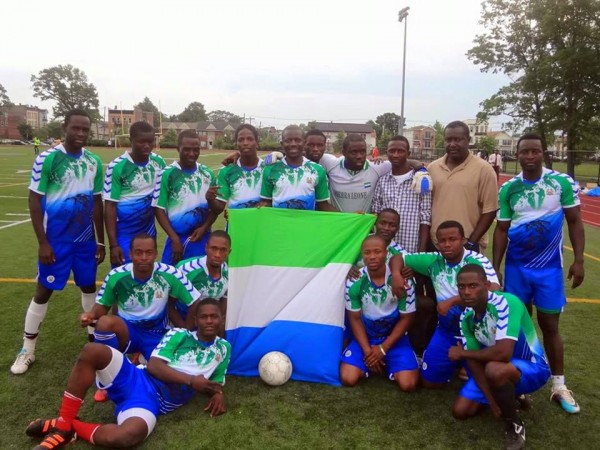 THE SHOOTING STARS OF NEW JERSEY AND THEIR COACH , MR. MOHAMED TUNIS. 
A  high-powered delegation of the Shooting Stars football team , led by their Team Manager, Joseph Conteh and Coach , Mohamed Tunis, paid a courtesy call on Minister Plenipotentiary to the United Nations and Coordinator of C-10, Leeroy Wilfred Kabs-Kanu , last Sunday to inform him officially about the tournament.
Receiving the team, Minister Kabs-Kanu thanked them for the honor granted him once again by the Shooting Stars Football Club of New Jersey. He told them that soccer is held in high esteem by the Government of Sierra Leone , headed by President Ernest Koroma, who has prioritized sports in the country.
He told the Shooting Stars and other Sierra Leone sporting teams  in the U.S. that they are ambassadors of the country and are also helping to rebrand Sierra Leone, because sports is one of the very important vehicles for rebranding a country .
Minister Kabs-Kanu assured the team of his support to ensure their success .
The competition  will attract some of Sierra Leone's soccer maestros living in the U.S , like Leslie Allen, Sentu Johnson, Max Macauley, Little John Johnson, Allie Ngayenga, Patrick Dangawallie, Brima Mazolla Kamara, Kolleh Dumbuya and others not yet named.
The competition will start at noon on Saturday .
A fundraising dance will follow the competition , to be held at the East Franklin Firehouse on Saturday night. We will bring you more details.