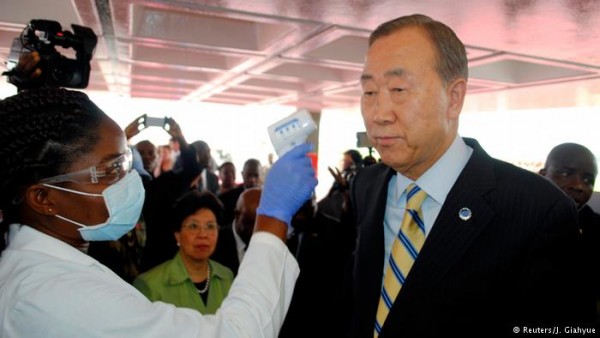 Top UN official Ban Ki-moon is in West Africa to show solidarity with countries battling Ebola, which has so far killed nearly 7,000 people. The epidemic is also interrupting food supplies.
Ban Ki-moon has his temperature checked as a precaution against Ebola upon arrival in Liberia
The tour by UN Secretary General Ban Ki-moon aims to raise the profile of the efforts to fight Ebola and thank the hundreds of organizations and thousands of health workers who have participated. "Our goal is to see the last case identified and cured," he said.
Speaking in Monrovia, he praised Liberia for its efforts to combat Ebola. "We have reasons to be cautiously optimistic that this terrible outbreak can be defeated," he told a joint press conference with Liberia's president, Ellen Johnson Sirleaf.
"Our response strategy is working – where people are gaining access to treatment, where contacts are being traced, burials are becoming safer, communities are mobilizing to protect themselves," Ban said.
DW's correspondent in Monrovia Julius Kanubah said Liberian officials and international aid workers have welcomed the visit by Ban Ki-moon as a significant gesture of solidarity because the struggle against the disease is far from over, despite the decline in transmission in the country.
Ban: 'As long as there is one case of Ebola, the risk remains'
Earlier Ban stressed that it was "important to abide by health protocols."
He was referring – among other things – to the need to avoid contact with the body fluids of people infected with Ebola, whether living or dead, if the spread of the infection was to be halted.
Concern about Sierra Leone
Three other countries struggling with Ebola – Sierra Leone, Guinea and Mali – are also on Ban's itinerary. So is Ghana which hosts the headquarters of the UN Mission for Ebola Emergency Response (UNMEER).
Rates of infection are rising fastest in Sierra Leone, which accounts for more than half of the confirmed cases of the virus. They now number from than 18,600. Infection is spreading rapidly around the capital Freetown, where some aid workers say public information efforts are faltering.
This week Sierra Leone launched "Operation Western Area Surge" to contain the outbreak with health workers fanning out and looking for the sick, street by street. Restrictions on travel and public festivities have been announced for the holiday period.
Medical charity Medecins Sans Frontieres (MSF) said it had opened two new Ebola treatment centers in Sierra Leone to cope with the rise in cases – in Freetown and the central town of Magburaka – bringing its total in the country to four.
More than 3,000 people have died of Ebola in Liberia
"There is still a need to improve messaging about the disease. 70 percent of people in our Freetown treatment center got infected at funerals," Thierry Goffeau, MSF's emergency coordinator in Sierra Leone, told the Reuters news agency.
Impact on food supply
Ebola is also disrupting the lives of people who have so far escaped infection. It is wreaking havoc with food supply chains in West Africa, leaving half a million people without enough to eat.
Two UN agencies, the UN Food and Agriculture Organization (FAO) and the World Food Program (WFP) have warned that this figure could rise to 1 million by March 2015 "unless access to food is drastically improved and measures are put in place to safeguard crop and livestock production."
The World Health Organization said the death toll from the nine-month-old epidemic had risen to 6,915 as of December 14.