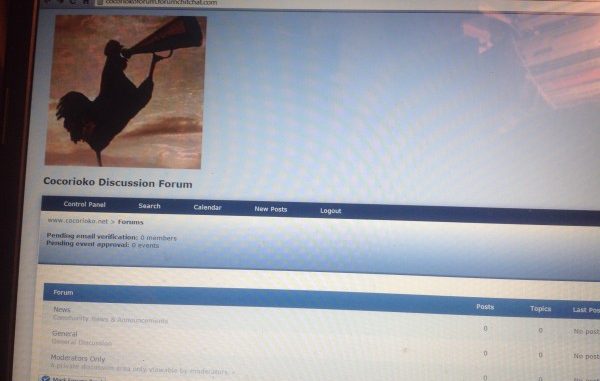 Do you remember those glory days and glory nights when we locked horns on the Cocorioko Forum with mind-bursting and animated debates on national matters ? Well, those days are returning. The Cocorioko Discussion Forum is back. We have decided to bring back the forum to create another  platform for Sierra Leoneans to intelligently and  decently discuss matters affecting their nation. This open forum will be linked to our Facebook forum which presently has 18, 000 users.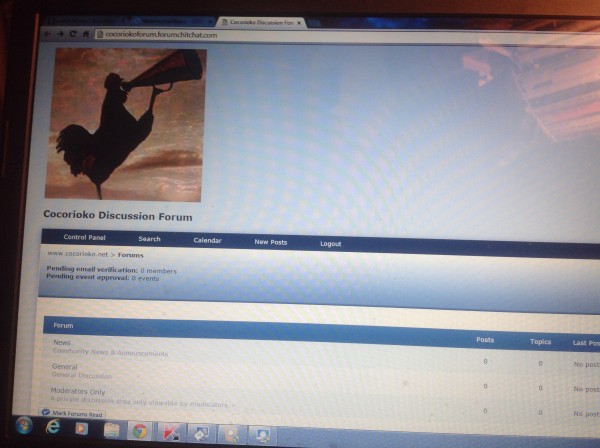 THE NEW  COCORIOKO FORUM WAITING TO BE  USED
The uniqueness of this forum rests on the fact that government officials, politicians and public figures  and their press men and media promoters will be free to come here  to defend criticisms levied against them by participants. Everybody will be given an opportunity to be heard. It will not be a one-sided forum with the expressed motive to damage the hard-earned reputation of other people. Nobody will be allowed to use our forum to settle scores . All discussions will be based on burning national matters and undue intrusion into the private lives of other people will not be tolerated . We want to set up a forum that will demonstrate that we Sierra Leoneans are capable of engaging in interesting, educative and fruitful discussion of matters affecting our nation. People have condemned the quality of public discourse among Sierra Leoneans . We want to bring a more enlightened, fact-based discourse that will serve the cause of our nation.  If you believe that you are being defamed and your own side of the story is not being heard, come and be part of the Cocorioko Forum.
We are not here to compete with any forum or listserve. In fact, cross-postings will not be allowed on our forum.  Our aim is to provide a balanced platform where people will be privileged to clean up  their names or present their own side of the story. As we know, there are two sides to any story.
WE ARE LOOKING FOR a competent administrator /Monitor . This individual must live in the United States of America and to be accepted, he/she must produce a verifiable self-photo, a verifiable address and telephone number . He/ she will remain anonymous to the public but he/she must be somebody we  know personally  and we can relate to and work with amicably in the interest of the nation. All passwords and logging information as well as proprietory and property  rights to the forum  will be the sole preserve  of the Cocorioko Newspaper and the new administrator must accept this in writing before he /she starts work.  He/ she must be ready to hand over our site immediately  upon request . To ensure compliance , no application from  outside the U.S. will be accepted.
A token will be paid to the administrator every month .  The forum has been created and is awaiting its inauguration by the Moderator.
If you want to be part of Sierra Leone's largest and most widely-read newspaper, apply to kabbskanu@aol.com and kabbiekanu@yahoo.com.