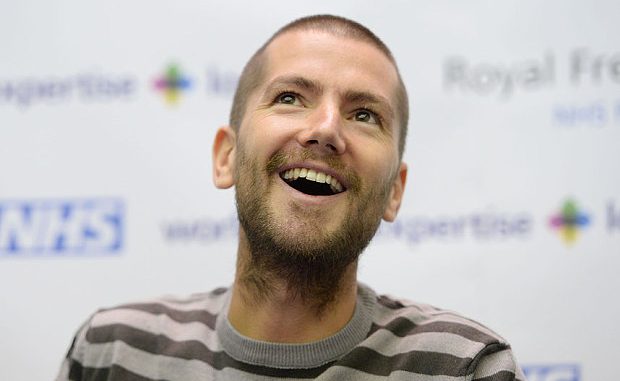 British Ebola survivor William Pooley told today how he feared for his life after catching the deadly virus.
The volunteer nurse, 29, has been given the all-clear and discharged from a London hospital, having received the experimental drug ZMapp to combat the disease he contracted in Sierra Leone.
He praised the "world-class" treatment he was given after being evacuated back to the United Kingdom.
Mr Pooley, from Suffolk, was flown home by the RAF and cared for in a special unit at the Royal Free Hospital in north London.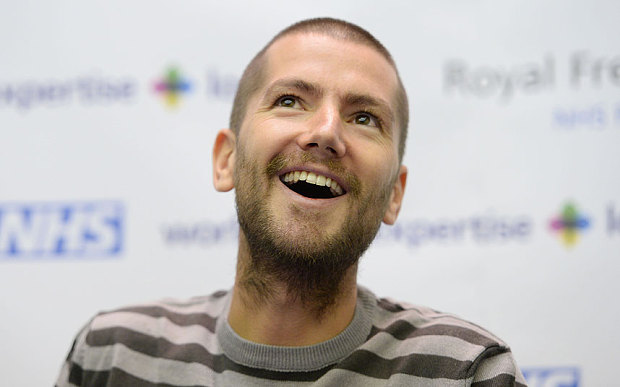 He told how he had been woken by a doctor in a full protective suit after blood tests proved he had Ebola while working in west Africa.
He said: "I was worried I was going to die.
"I was worried about my family, I was scared."
He said the worst thing had been having to tell his parents that he had Ebola, adding: "No one wants to upset their parents in that way."
He said he had no regrets about going to an area where the epidemic was rife but said he had no plans for the future at the moment.
He joked: "They incinerated my passport so my mum will be pleased to know I cannot go anywhere at the moment."
Mr Pooley is heading home to Eyke in East Anglia, where his parents Robin and Jackie live, to recuperate with friends and family, he said.
He said he was "wonderfully lucky" to have survived a disease that had killed more than 2,000 people in Africa.
Infectious diseases consultant Dr Michael Jacobs, who treated Mr Pooley, said: "The virus is clear from the body and there is no risk to the wider community in any way."
The disease victim told how he had undergone blood tests after feeling ill in Sierra Leone.
He said he went to sleep feeling sick and was woken by a World Health Organisation doctor wearing personal protective equipment (PPE) after the tests came back positive.
"He was in PPE so I knew it was bad news," Mr Pooley said.
"It was a bit disturbing to get that diagnosis but I had been half expecting it because I had been feeling sick."
He said it was not clear whether the ZMapp drug was responsible for his recovery but he was "hugely grateful" to everyone involved in getting it for him.
The drug is a blend of three laboratory-made antibodies designed to neutralise the virus.
Two US doctors given the drug after they were infected with Ebola while working in Liberia subsequently recovered.
But it is not known whether they were saved by the drug or were just lucky. Figures show that 47% of those infected in the current outbreak have survived. At least two other patients treated with ZMapp have died, possibly because help got to them too late.
Mr Pooley added: "I was very lucky in several ways, firstly in the standard of care that I received, which is a world apart from what people are receiving in west Africa, despite various organisations' best efforts.
"I had amazing care, which was one difference.
"The other difference is that my symptoms never progressed to the worst stage of the disease – people I have seen dying horrible deaths.
"I had some unpleasant symptoms but nothing compared to some of the worst of the disease, especially when people are dying."
He did not even vomit, he said, but had suffered high temperatures and some stomach problems.
The World Health Organisation has warned that as many as 20,000 could contract the virus before the outbreak is over in west Africa.
Mr Pooley highlighted the conditions other medical staff are working in out there.
He said: "I have mixed memories, some great memories and some horrible memories – lots of people dying.
"But also some wonderful memories of people going home, people showing massive spirit and cheer, despite the horrible conditions, the truly heroic people that I worked with, people that went on to get sick, so it is a massive mix of memories."