By Titus Boye-Thompson, Communications Expert, MAFFS
The recently published and launched FAO Vulnerability report on food security has easily been misconstrued as a comprehensive food insecurity dataset and a determinable representation of the state of food security in Sierra Leone. No doubt, the report made for alarming reading and its statistical repertoire point to a dismal state of food security in the country. What is not amplified is the fact that this report is technically a historical perspective that looked at the state of food insecurity over a period but the figures were collated in 2015.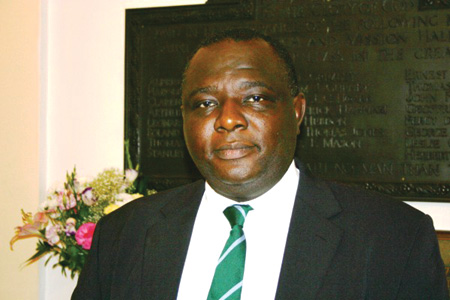 Food security has over the years become a technical term that alludes to three components of food access, availability and utilisation. Definitions of food security have therefore evolved to be integrative of these three components and in addition to them have included other aspects of development such as are referred to as the "drivers" of food insecurity. There is also the consideration of the productive element of food security, which on the one hand speaks to the yields per hectare under cultivation and the deliberate strategy to increase that yield through intensification and diversification of farm systems and on the other hand, there is the environmental considerations of expanding land use to achieve food security and the environmental degradation that may ensue, the adaptability of ecologies and the impact of food systems and production such as the use of fertilizers and its impact when compared to the counter argument of food sovereignty which looks to securing the natural feature of food systems and relies heavily on natural manure and traditional farming methods. These considerations are but a miniature of the big picture in achieving food security and the assurances that our communities are able to feed themselves.
Food security in Sierra Leone has been much improved in the past 10 months since the current Minister of Agriculture, Forestry and Food Security took up office. This is exemplified by his direct efforts at changing the paradigms for farm productivity in Sierra Leone. He has been greatly helped by his world wide acclaim and reputation as a crop engineer, a researcher of note and an agriculturist of international repute. For the first time in June 2016, Prof. Patrick Monty Jones launched the planting season on the farms of this country, attending farm communities in the North, South and East of the country to challenge them to concentrate on production and productivity. His drive and commitment to securing that change is now being taken one step further as he undertakes symbolic harvests of rice and other crops across the country. The first such harvest was done at Yenkessah on a community farm covering around 200 acres enjoined by three villages and supervised by a church group. The efforts of these people signified their commitment to making a difference and underscored government's efforts at increasing production and productivity because that farm was supported with inputs and farm machinery by the Ministry of Agriculture, Forestry and Food Security.
The misconception that could easily creep in from a report such as the FAO vulnerability report is made even worse by those who seek to politicise it and use its findings as a hankering on the good work that is being done to restructure agriculture and align it to the President's post Ebola reconstruction. Reliability on such reports serve as a basis for forward planning in more ways than one. It provides international institutions with the backing datasets to assess particular interventions particularly when delivering programs aimed at poverty reduction and under development.
The period for which these datasets were collated spanned in significant terms the period during which the Ebola virus ravaged this country. In that time, it is clear that access to food resources was impaired. There was a general ban and restrictions on movements across the country. In such a situation, the movement of food items were severely constrained. There was anecdotal evidence of Ebola patients being smuggled in vans carrying vegetables and greens, to such an extent that all such vehicles were detained at checkpoints and border crossing areas.
The principal contention for food access is having adequate income or resources to access food. Many of our rural areas where mining activities were prevalent suffered disproportionately during the Ebola period as mines and other installations were either forced to shut down or closed down on their own volition in keeping with some of the emergency regulations at the time. Secondly, food availability during this period also came under some pressure although the agricultural sector showed some sign of resilience. It is the food utilisation rate that caused the more severe concern and this has some significance for dietary habits generally in Sierra Leone. When one considers the narrow ambit of food systems in Sierra Leone, it is arguable that the country has adequate dietary intake and a high ability to absorb nutrients. It is also in this area that matters of food security are merged with nutrition security and aspects of which Minister Prof. Patrick Monty Jones has been active in the very short time since taking over responsibility for agriculture, Forestry and Food Security.
He attended a conference where he was among a panel of experts who deliberated on food systems to determine the types of food systems that would sustain communities. He also recently addressed the FAO Conference on Agriculture (COAG) in Rome on sustainable food systems and the need for a new green revolution for Sierra Leone. Closer to home, Prof. Monty Jones is securing international support for food security and small holder commercialization with the EU granting the sum of Euros 44 million to support the Boosting Agriculture and Food Security (BAFS) programme, one of the largest direct support programmes for agriculture.
All in all, even though Prof. Monty Jones had to accept the findings of this report, it must be clear that the report precedes his time in office but in the interests of continuity of administration, he has to co-sign the report as a requirement of government's participation in the process. In consideration of the broader aspects of the report however, it is clear that there is a task ahead for the Ministry of Agriculture, Forestry and Food Security to work collaboratively with other line Ministries such as Fisheries, Health and Sanitation, Trade and Industry to provide joined up working for better food systems and enhanced farm methodologies. Collaboration with Fisheries and Health for example would yield greater benefits in terms of nutritional and dietary intake, amplifying the nutrient qualities of our home grown foods such as sweet potatoes and local rice. Working with Trade and Industry, we would augment better support for agri-business, enhance smallholder commercialization and increase the effectiveness of Agricultural Business Centres as units of excellence in moving produce from the farm gate to the dinner table.