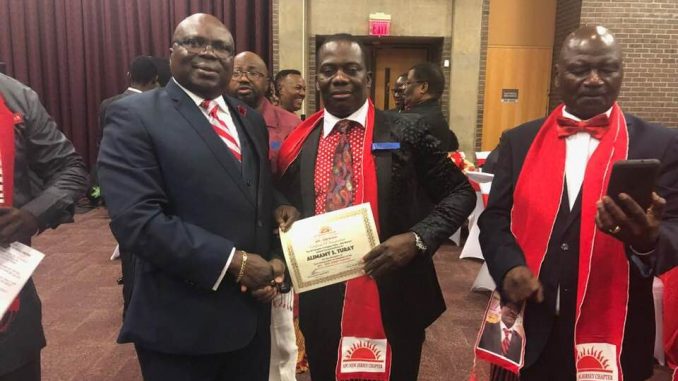 By KABS KANU
In a grand occasion held at the Rutgers University Students Center , the new executive members  of the All People's Congress ( APC ) New Jersey Chapter, headed by Mr. Alimamy Turay, were inaugurated into office last Saturday.
The Diaspora Coordinator of the APC and former Transpirt and Aviation Minister, Hon . Leonard Balogun Koroma handed the certificate of inauguration to the President of the New Jersey Chapter, Mr. Alimamy Turay, after the inauguration conducted by the Chairman of APC-USA, Mr. Unisa Kanu.
Mr. Kanu charged the new executive to obey the bye-laws of the APC-USA and the 1995 constitution of the APC  and to defend the party at all times.
In his inaugural address, President Alimamy Turay said that what we saw tonight shows that with God. all things are possible. He lauded the presence of the SLPP  at the occasion and said this is what we want to see in Sierra Leone-Peace and reconciliation. He recognized the presence of all other political parties present and his muslim and christian brothers and sisters .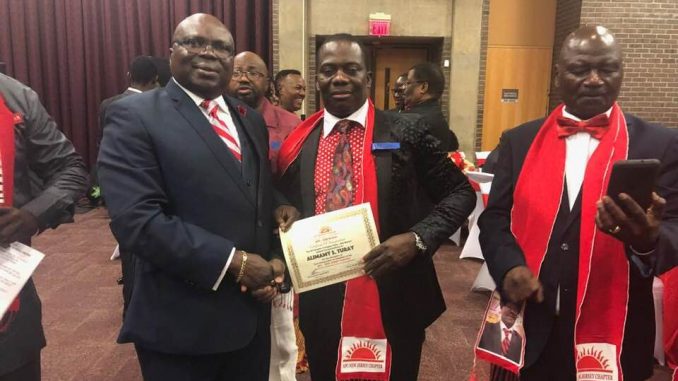 Hon. Logus Koroma presenting the certificate of inauguration to Mr. Alimamy Turay.
He said he was proud of what his executive has achieved during its first term of office and he gave the credit to everybody in the executive . These achievements did not belong to him alone, he went on. He called on Chapter presidents and executive members to lead by example. Every executive member must take his/her role seriously.
He said that every APC  comrade has obligations to move the party to right direction and to use the unique talents , strength and skills at their possession which they can put together in a productive way to make the APC  unstoppable  and bring the party back to power in 2023 , which is the theme of this inauguration. He also challenged members to pay their dues, attend meetings and programs , defend the image of the party at all times and engage in productive dialogue of ideas .
"We need that spirit of collaboration to ensure that we implement the philosophy of the APC  party, which is the best philosophy for Sierra Leone …. Let us get along at all times."
Mr. Turay advised against the politics of prolonged anger. "Yes, you can be angry".  but he said we cannot continue to be angry because of one man and in the process harm the party.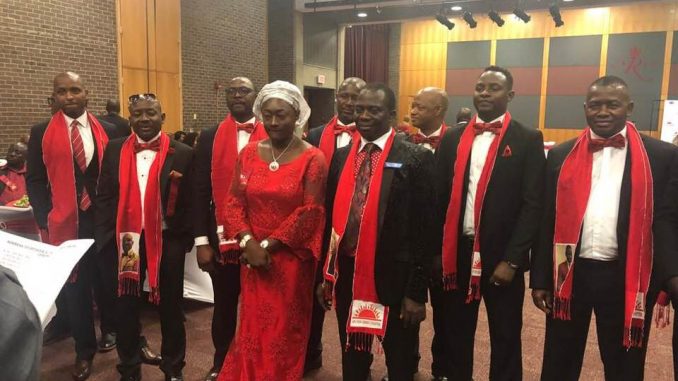 In a statement, Mr. Logus Koroma said it does not seem like the APC is in opposition at all ( Considering the activities in the U.S.). He said we have had the blame game and now is the time for reconciliation. He thanked members for their loyalty and commitment to the party  . Mr. Koroma said that even in opposition, "your  attendance ,financial contributions , dedication  , loyalty are beyond belief ". This, he said, was the true spirit of the APC and it is the same spirit that will take the party back to State House in 2023.
TO BE CONTINUED .