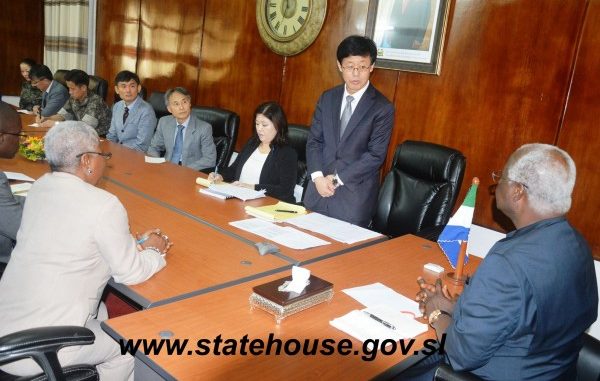 By State House Communications Unit
President Ernest Bai Koroma on Monday 17th November received at State House an advanced team of Korean medics as part of their support towards the fight against Ebola. The advanced medical team is in the country to have a firsthand appraisal on the country's needs in the ongoing fight on eradicating the spreading Ebola virus disease (EVD). The Korean Medical Team comprises four teams in which the first team has already arrived whilst the remaining three teams are on the way.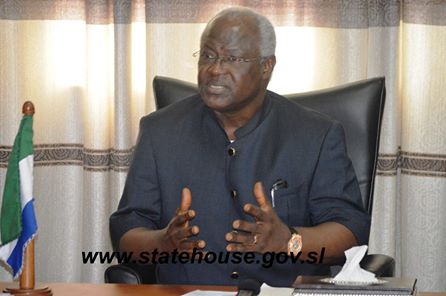 President Koroma thanked the team for their support to eradicate Ebola and acknowledged other assistance made through the United Nations agencies. He wasted no time to state the quest for treatment centres, trained medical personnel, adequately trained contact tracers, surveillance officers and an improvement in logistical support. The president also mentioned that government will have to continue with psychosocial therapy to making sure that Ebola survivors are integrated back to their various activities.
He stated that even though the disease has had adverse effects on the country's socio-economic activities, the need for putting up parallel structures that will guarantee the economy and the country back on track cannot be overemphasized. "These are all areas of intervention," he said and thanked the Korean government for the reconstruction of the City Hall even in the midst of fighting Ebola.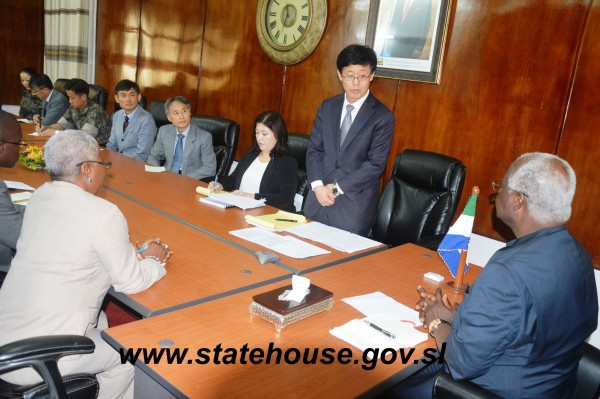 The Deputy Director General of the Development Corporation Bureau in the Korean Foreign Ministry Mr. Jeong Jin-Kyu thanked President Koroma for the hospitality and the fruitful bilateral relationship between the two countries, especially with development cooperation in health, finance and transportation. He informed the president that the Korean government has discharged medical staff to work with other partners in the ongoing fight to defeat Ebola. Jin-Kyu continued that as a way of increasing their participation in the fight against Ebola, they will give an additional Five Million United States Dollars to shore up support for Sierra Leone.