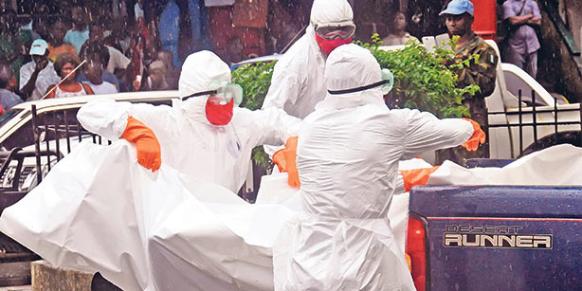 By Umaru Jah —

As part of its effort to stem the spread of Ebola in Sierra Leone, the German Red Cross has yesterday, sent a flight with 25-tons of aid items worth two hundred thousand Euros. The project is funded by the government of the Federal Republic of Germany.



The items include among other things, tents, generators, air conditions and medical supplies. They are specifically meant for the Kenema treatment centre following a need assessment carried out by both the International and German Red Cross in Sierra Leone. 



Addressing a battery of Journalists in the presence of the German Health Minister, Hermann Gröhe shortly before the flight's departure at the Berlin-Schoenefeld Airport, Sierra Leone's Ambassador to Germany H.E Jongopie S. Stevens thanked the German Red Cross and the Federal Government for their continued support towards the fight against Ebola in Sierra Leone. 



He expressed delight and appreciation over such humanitarian move by the German Red Cross and added that the relief will go a long way in complementing government's effort in fighting such a global health challenge. 

He said his government has been working tirelessly to contain the disease despite its limited capacity within the health sector. He therefore stressed on the need for more support from the International Community in order to put an end to the killer disease.
The President of the German Red Cross Dr. Rudolf Seiter said "This is another important step in the fight against Ebola," His organization has been working in collaboration with the International Red Cross in Sierra Leone to help contain the Ebola Virus Disease in the country. They are presently in charge of the one hundred beds treatment center in Kenema.

Responding to the need for more medical personnel in the country, Dr. Rudolf Seiter said 107 doctors have so far being approved to go and work in Sierra Leone and further called for more support from individual organizations across Germany as according to him, the situation requires urgent intervention.