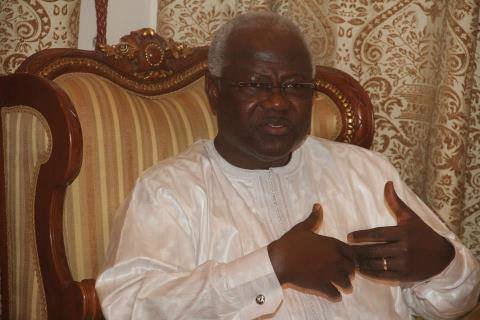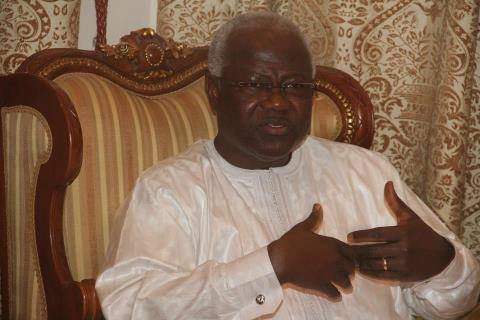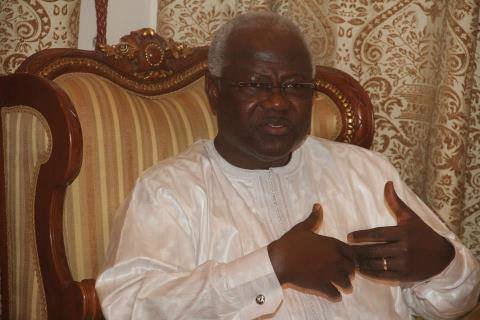 Ernest Bai Koroma, the President of Sierra Leone, on what his country needs most to fight Ebola.
1. What is the current situation with Ebola in your country, Sierra Leone?
Since the first cases of the disease in Sierra Leone in May, over 4,400 of our people have been infected, of which there are a little over 870 survivors. Most of the dead are women and over two-thirds of those infected belong to the most economically active age category of people between the ages of 15 and 50. Non-Ebola illnesses are adding to the death toll and increasing suffering, as the national healthcare delivery system is under further strains and being weakened.
September and October were challenging months for the country, as we saw the greatest increase in number of people infected by the disease. But it was also a period of increased international support and surges in our capacities to fight the illness. The UN held a special session on Ebola and established in record time the United Nations Emergency Ebola Response Mission (UNMEER); the World Bank and IMF have approved resources to fight the disease. The British are sending nearly a thousand personnel here and are building several treatment centres with laboratory capacities. In November the governments of the United Kingdom and Sierra Leone organized a conference in London to gear up international support for the fight in Sierra Leone. Lots of pledges were made at the conference. The Cubans have provided health workers; the Chinese have provided medical equipment, a lab and health workers. The Americans are sending over 4,000 soldiers. Most of these would be stationed in Liberia, but the effect would be to reduce the infection rates in the region and provide necessary logistics and training support to the other countries most affected by the outbreak.
That countries and organizations have made commitments amounting to hundreds of millions of dollars is great, and it is worthy to note that the number of countries and organizations that have disbursed or delivered on their commitments are increasing and helping the fight. But a lot of the commitments made have not been disbursed; they are not yet facts on the ground, and it is only when they become facts on the ground that they can be utilized in the fight against Ebola. There is therefore great need for countries and organizations to accelerate efforts at getting these commitments on the ground. There is a gap between commitments made, resources disbursed and stuff on the ground.
Over 80% of the personnel on the ground fighting the disease in the country are Sierra Leoneans. Sierra Leonean doctors and nurses provide most the frontline services at treatments and holding centres; Sierra Leoneans are the contact tracers, they are the burial teams, and they constitute the bulk of the staff in international organizations supporting the fight against the disease. The largest treatment centre in the country, which has 120 beds and was opened in September, is run by young Sierra Leonean doctors, and they have since ensured the survival of over 200 people infected with the virus. But the disease is new to us; local capacity to stop the virus is clearly not enough and more international support on the ground is required for us to stay ahead of the virus.
2. What are your most pressing needs as you respond to the situation?
Our objective now is to break the chain of transmission of the disease and stop its spread. The way to do this is to ensure safe burial of those who have died of Ebola; remove the infected from communities and put them in holding and treatment centres; and hasten Ebola tests. We have started scoring successes in ensuring safe burial; we are also increasing the number of treatment centres and lab facilities to conduct tests for Ebola. But more needs to be done.
We seek effective and enduring partnerships at three levels of direct intervention: the household, the community and the treatment centre. To get ahead of the virus, we need strategically placed treatment centres, with each centre holding 50 or 100 beds. With support from our partners, including the British, the Chinese, Médecins sans Frontières, the Red Cross and others, we currently have five treatment centres. The total bed capacity of all these treatment centres is 387. This is smaller than the minimum 1,000 bed capacity needed in the country to stay ahead of the virus. There are two fairly big holding centres at Lakka and Port loko and a number of smaller holding centres in the country. Treatment centres are being built in Bombali, Port Loko, Moyamba and Freetown, but their total bed capacity would not get us to the estimated number of beds needed. Infection patterns are shifting geographically. Hotspots at the initial outbreak of the disease are registering very low infection rates, and other areas have seen spikes in infection rates. These areas need treatment and holding centres; treatment centres are needed in Bombali, Koinadugu and Freetown, and large holding centres are needed in Kambia and Pujehun.
Treatment centres need personnel, for without them, treatment centres are non-operational. For Ebola treatment, the health worker to bed ratio is 3.5 personnel per bed. Thus a treatment centre of 50 beds would require 175 personnel to run it, with the ratio been 25 doctors, 100 nurses, and 25 other health workers to effectively and safely operate it. A 100-bed treatment centre would require 350 personnel. The personnel would work in shifts to ensure safe and effective care of patients. We seek support in getting more personnel to the country, and in training for national and other health workers in the country. Ending the outbreak will require more doctors, nurses, infection control specialists, hygienists, epidemiologists, nutritionists and counselors. We are heartened by pledges from African countries to send in hundreds of health workers, and the African Union's coordination of this effort; we also welcome the pledge of 30 million dollars by African businesses to facilitate the deployment of these health workers to the rest of the region. But speed is of the essence if we are to get quickly ahead of the virus.
With support from our partners, including the World Bank, the UN, the British and others, we have increased the availability of critical logistics and equipment, but more needs to be acquired. These include ambulances, vehicles and motorbikes, personal protective equipment, IV fluids, anti-bodies for superimposed infections, vitamins and food supplies. An additional 40 ambulances are needed to service the nationwide network of treatment centres and community Ebola care units; more motor bikes are needed for contact tracers and 20 to 50 4WD utility vehicles are needed for supervisors, surveillance officers and burial teams.
Lab services are very critical in all this for diagnosis suspected cases and confirmation of causes of death to ensure safe burial practices. With the aid of the South Africans, the Chinese and the British, lab capacities in the country are increasing, and most of the new treatment centres that are being built with support from the United Kingdom will have lab facilities for testing Ebola. But getting ahead of the virus requires more, especially mobile labs that could be moved to hotspots of new infections to get quick results and remove infected people into treatment centres. Labs are gateways to treatment centres; unless they function properly, infected people could remain in the community, continuing to transmit the disease. These labs are required for a quick turnaround between taking samples and presenting results.
Millions of dollars are also required to pay the thousands of health workers that would be deployed; millions of dollars are needed to shore up drug, food and other basic supplies and logistics.
At the community level, a package of support is needed to take those showing signs of the disease out of households and into community Ebola care and holding centres, pending confirmation of tests and transfer to treatment centres. The country needs a network of small 20-bed capacity community holding centres in our various chiefdoms. Because of the urgency of the situation, these community Ebola care centres could be easily deployable well-fitted tents for now, as we move to build stronger physical structures in the medium term.
Ebola is a disease of the household, and this makes family members the first responders to the illness and very vulnerable to getting infected and spreading infection through common household practices like touching the sick and mourning the dead. Support is required at the household level to enable households to safely deal with instances of illness, bereavement and temporary isolation. The package of support would include simple protective materials, logistical support and personnel to visit quarantined homes daily to offer a range of services, including health check-ups, information-sharing and removing the sick from their communities.
3. What mechanisms need to be put in place to ensure a prompt and effective response to international crises in the future?
The international community should acknowledge that viral diseases are becoming diseases of the world, and not of any particular region. Viral diseases are no respecters of boundaries in a world of expanding human habitants, bringing humans everywhere into greater contact with mutating viruses. Globalization, increasing urbanization, faster transportation and denser networks of people moving between rural and urban areas and across borders is fuel for more rapid spread of formerly isolated viral diseases. Examples here include SARS, HNI, Marburg fever and a host of other zoonotic transmissions. Regions of the world may feel immune to these outbreaks, and can be caught unprepared. In West Africa, we had a slow response at the initial stages because of the absence of this type of acknowledgement. None of us recognized this confluence of trends – urbanization, faster travel, expanding human habitants and increasing zoonotic transmissions – could emerge with such force in West Africa. The newness of the disease to us meant that we could not identify the index cases in time to activate existing response capacities. That we missed out on the index cases allowed the virus to infect more people and spread to more areas. Our international partners were also not prepared to support identification of the index cases, and the disease had infected many people before it was identified as Ebola. And by that time many who had the disease but were still asymptomatic had moved on and could not be traced. Other countries in the region, more alert now because the disease is in the region, were able to identify index cases, and this has helped them to halt the spread of the disease.
But we must note that at the initial stages in our countries, governments and the international community were slow to recognize the threat, and when the recognition did come, it came with a flurry of fear that led to closing off travel to and from Sierra Leone and our region.
But the panic was also a result of the world's failure to recognize the global trends and possibilities of viral outbreaks. This acknowledgement is slowly beginning to emerge, but it is an acknowledgement that must lead to a restructuring of the global health infrastructure to better prepare for and combat these outbreaks. This restructuring is gradually emerging, as could be seen in the establishment of UNMEER, the very first mission of the UN created in record time to fight an outbreak. The mission is recognition of the fact the existing global health response mechanisms are not comprehensive or robust enough to deal with the new challenge, and that something new must be built. We hope that UNMEER will also result in the creation of a more permanent institutionalized template for dealing with outbreaks everywhere in the world, like we have with the United Nations Office for the Coordination of Humanitarian Affairs, which coordinates and facilitates surge capacities for dealing with other humanitarian disasters in the world.
We would expect such a body to also work on the relationship between available knowledge, pharmaceutical companies and the development and deployment of vaccines and therapies. The knowledge needed to make vaccines and possible therapies for viral diseases like Ebola exists, but not much attention was given to this until we had this very big outbreak. We are encouraged by meetings going on between governments, the World Health Organization, research institutes, and big pharmaceutical companies in relation to the vaccines and drugs being developed for Ebola. We would like to see permanent platforms for these engagements on how to optimize the interests of global health without harming outlays for research, innovation and other concerns. But we believe concerns for global health should be given much more priority in the development of vaccines and drugs than has been the case. From what we understand, research into and development of vaccines and drugs for Ebola were hampered by the idea that these viral diseases are diseases of poorer regions of the world, and do not warrant the time and effort of corporations, whose greater concern is returns on their investments. But permanent platforms would introduce other priorities into medical research and investments, particularly that of global health.
Also, we expect support in rebuilding our health infrastructure. Ultimately, national health infrastructures are first responders to an outbreak, and they must be able to hold the fort against emerging viral threats until international help comes. In Sierra Leone and the wider West Africa region, this would mean support in establishing national viral infection control or public health institutes with surge capacities.
We know that the present Ebola response is an emergency response but sustainability must be integrated into it to enable us to respond more quickly to any recurrences of Ebola.
4. Are there lessons to be drawn from the Ebola outbreak that could be applicable to non-medical pan-regional and global crises?
Crises are now all interlinked, regionally and in relation to sectors. A crisis may start as a health emergency but could quickly mutate into more than a health emergency to become a security, humanitarian, food and economic emergency. The security and terrorist crises in parts of the Middle East are also health, humanitarian, food and economic crises; the natural disaster that hit Haiti some years back was also a security, health, governance and economic crisis. We should also not regard these crises as solely regional crises; their effects spill into other regions. A particular region or sector may trigger a crisis, but increasingly crises spill into other sectors and regions. This thinking should inform international responses to crises, including non-medical crises.
5. Clearly, the immediate concern is to halt the spread of human tragedy, but Ebola will also leave an economic legacy in the region. What is your assessment of the tools and international assistance that will be needed for a sustainable economic recovery?
The economic disruptions are already being felt. In Sierra Leone we were implementing policies that were making our country one of the fastest growing economies in the world when Ebola struck. Prior to the outbreak of the disease, the economy grew by 14% in 2013 and was projected to grow by 11.3% in 2014. But the disruption to agricultural, mining, manufacturing, construction, tourism and transportation following the outbreak of Ebola has resulted in a projected slowing down of economic growth to 5% in 2014. This poses a significant threat to livelihoods, human development, state security and poverty reduction. With an estimated revenue shortfall of $90 million, government coffers are drying up; and the shortfall may jump to $215 million if the disease is not contained by early next year. Based on our preliminary revised projections, economic growth will slow down to 5% in 2014, from a projected growth of 11.3%.
We are developing a post-Ebola recovery plan. The plan is based on a warrant to speedily expedite socio-economic recovery and reduction of suffering from the disease, and to reclaim the path to sustainable development that our country had laid out before the outbreak of Ebola.
But the government cannot ensure this without substantial international fiscal and other support. A big fiscal gap is developing, and we need to close it. Private companies that are emerging as the backbone of our economy in terms of job creation and government revenues have been badly hit, and support is needed to get them to full productivy. The World Bank and other international groups have recognized this and are providing funding towards this. On November 5, the World Bank announced a package of commercial financing to enable recovery of the private sector, trade, investment and job creation in the countries hardest hit by the Ebola outbreak. This is great, and more support along these lines is required, including actions to reverse crippling international flight bans, and in destigmatizing our region. The rapid development of a vaccine and therapy are critical not only to ending the current suffering, but also to destigmatizing our region. This is necessary to ensure the return of investors and essential expatriate staff, boost job creation, and generate the revenue required to close financial gaps and ensure sustainable growth rates. This would help increase investment in healthcare and other services to improve human development outcomes and combat future outbreaks of viral and other diseases.
This interview first appeared in the November Executive Note, a monthly briefing from the World Econonic Forum's Global Agenda Councils.
Author: Ernest Bai Koroma is the President of Sierra Leone.
Posted by Ernest Bai Koroma – 
All opinions expressed are those of the author. The World Economic Forum Blog is an independent and neutral platform dedicated to generating debate around the key topics that shape global, regional and industry agendas.