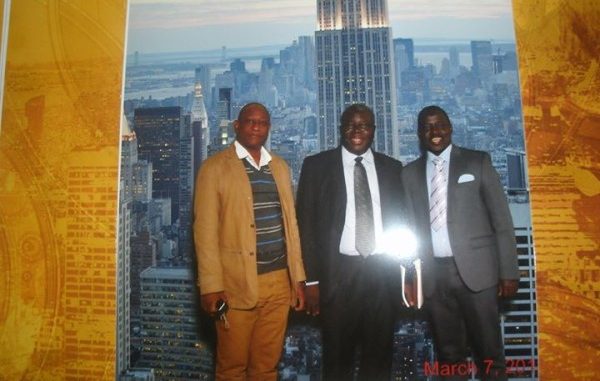 By Pasco Temple :
A team of three Sierra Leoneans led by Ambassador Bockari Kortu Stevens accredited to the United States of America, the National Publicity and Outreach Coordinator in the Office of Government Spokesman, Mr. Abdulai Bayraytay and Mr. Mohamed Bangura leader/Chairman "The United Democratic Movement" (UDM) have called on the US-based Human Rights Watch (HRW) at its 34th floor Empire State building Office to discuss some elements of inaccuracy that characterized the latter's recent annual report.
The report, titled, "Whose Development? Human Rights Abuses in Sierra Leone's Mining Boom", accused the government of Sierra Leone of colluding with an Iron Ore Mining Company "African Minerals Limited" (AML) to relocate residents in its area of interest without due process and subsequent compensation for their houses and lands.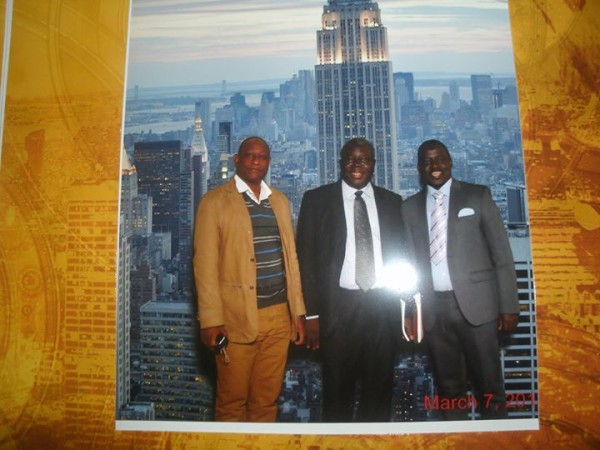 BAYRAYTAY, AMBASSADOR STEVENS AND MOHAMED BANGURA
According to the report "the government of Sierra Leone forcefully displaced indigenes of Bumbuna and ceded their lands to AML for their mining operations without due consultations and compensation.
The report also accused local chiefs of taking unilateral decisions to bargain with the Mining Company without any input from their subjects, when it comes to bargaining and Compensation for properties.
The National Publicity and Outreach Coordinatorr, who is a western-trained political scientist with specialization in international relations, described the report as "inaccurate".
He reminded the Author of the report Dr. Rona E. Peligal of her acceptance in Freetown of some untruth and ambiguities that are contained in the report and urged her to not only fulfil her promise to correct the misinformation, but to also do the proper thing, by correcting the anomaly.
"On February 18th, 2014, the Deputy-director in the Africa division of Human Rights Watch committed her organization to review the report, after accepting some inaccurate content." Said Mr. Bayraytay.
According to him, the report was openly challenged and criticized for its misleading, inaccurate and misrepresentations in both contents and facts by some members of the civil society, and a cross section of the media during a dialogue forum co-hosted by the Open Government Initiative at the Civil Service Training College at Tower Hill in Freetown.
"You could recall that Bockarie III the Chief of Bumbuna and some indigenes: I mean affected residents in the Mining areas of Bumbuna openly challenged your report and described it as untruth".
The National Publicity and Outreach Coordinator, reiterated the call on Dr. Peligal to review her report and set the records straight. "Any report that lacks credibility will only succeed to dent the author's reputation: In this case (HRW).
He reminded Dr. Peligal that government sent a letter dated February 17 this year to AML requesting their response to allegations in the report, which they did.
In her response, Dr. Peligal thanked the government and Mr. Abdulai Bayraytay for being fair with the report by not dismissing it in its entirety, and promised to return to Sierra Leone in April this year with a view to make the necessary corrections.
On arrival, she will interview more people at Bumbuna and corroborate her facts, and not necessarily mean to change the general interpretation of the report.
"My report is criticized by the youth and the media because the media specialist at African Minerals is a Youth Ambassador and has a string of newspapers under his control, and the people and journalists are afraid to openly criticize the government. "What I reported is not too different from a similar report published by Mr. Gabrielle of the World Bank in Freetown", Dr. Peligal emphasized.
Responding, leader of the United Democratic Movement (UDM) party Mr. Mohamed Bangura challenged Dr. Peligal and said the picture painted about Sierra Leone was incorrect.
"Today Sierra Leone is enjoying press freedom more than ever before." Mr. Bangura described as unfortunate her reliance on a discredited elements as a source for an international report. "you are relying on a report by Gabrielle, a disgraced and discredited man that was caught on tape clandestinely inciting some local musicians against the government", Mr. Bangura said.
"As an opposition leader I have a mandate to challenge any report, particularly those that are misleading and have the tendency to besmirch the image of the country."
The primacy of my allegiance as an opposition Political Party leader is to the Country, Sierra Leone." Mr. Bangura concluded.
"As a responsible government, we always ensure that mining companies and other foreign investors adhere to our friendly laws, including their commitments to Corporate Social Responsibilities", said Ambassador Stevens. Adding, this government does not tolerate lawlessness.
In as much as Sierra Leone is a country that is in a hurry to develop, the Government has not in any-way allowed any company to violate laws with impunity, this government always ensures that investors operate within the ambit of the law.
The meeting was also attended by HRW Beneva Davies.